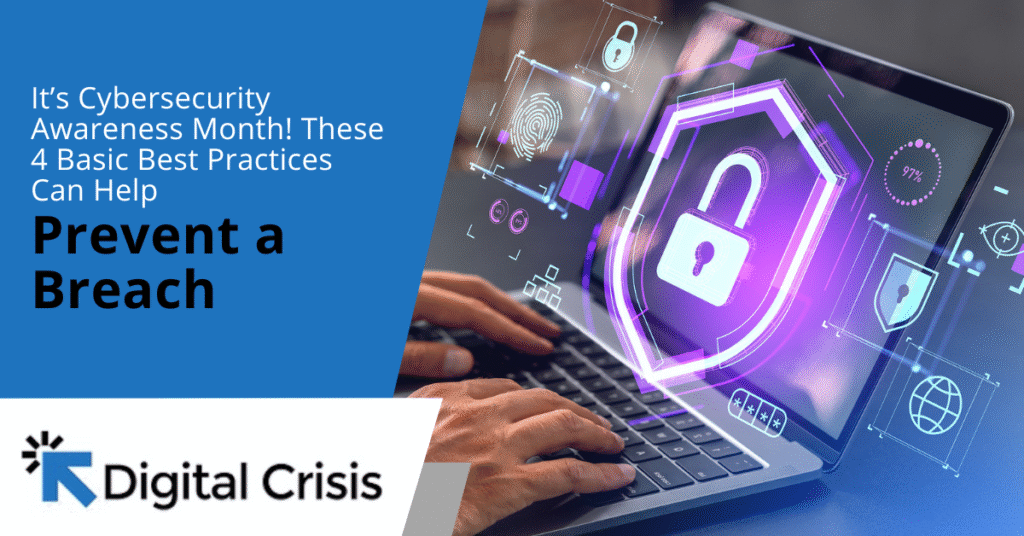 In an increasingly interconnected world where information and data play a pivotal role in our lives, the importance of cybersecurity cannot be overstated. October marks Cybersecurity Awareness Month, a dedicated period for individuals, businesses, and organizations to pause, reflect, and, most importantly, act on enhancing their digital security.
While this month serves as a reminder, it's crucial to recognize that cybersecurity isn't a one-time effort but a continuous journey. In this article, we will delve into the significance of Cybersecurity Awareness Month and explore four fundamental best practices that, if followed diligently, can significantly reduce the risk of a cybersecurity breach, not just during this awareness month but throughout the year.
The Significance of Cybersecurity Awareness Month
Promoting Vigilance
Cybersecurity Awareness Month is an annual call to action, urging individuals and entities to remain vigilant in the face of ever-evolving cyber threats. The digital landscape is constantly changing, and what was secure yesterday might not be today.
This awareness month encourages everyone to reassess their cybersecurity practices, identify areas that need improvement, and stay updated on the latest threats and defense strategies.
Raising Awareness
One of the central goals of this month is to educate people about the various forms of cyber threats that exist. From phishing emails to ransomware attacks, understanding the nature of these threats is crucial.
With awareness comes empowerment; individuals who are well-informed about the potential dangers are more likely to recognize and respond to them effectively.
The Four Basic Best Practices
When it comes to enhancing your cybersecurity, it's often the simple yet consistent measures that make the most substantial difference. Here are four fundamental best practices that, when integrated into your digital habits, can significantly reduce the risk of a cybersecurity breach:
Strong Passwords
Use complex passwords: When creating passwords, employ a combination of upper and lower-case letters, numbers, and special characters. The more complex your password, the more challenging it is for hackers to crack.
Avoid easily guessable information: Refrain from using easily accessible information such as birthdays, names, or common words. These can be exploited by attackers.
Implement multi-factor authentication (MFA): Whenever possible, enable MFA for your online accounts. This adds an extra layer of security, requiring multiple forms of verification to access your accounts.
Regular Software Updates
Update operating systems: Keeping your computer's operating system up to date is crucial. These updates often include security patches that address known vulnerabilities.
Update applications: Just as you update your operating system, regularly update your software and applications. Cyber attackers often exploit outdated software.
Enable automatic updates: To ensure you never miss critical security fixes, turn on automatic updates. This way, your system stays protected in real-time.
Employee Training
Phishing awareness: Train employees to recognize phishing attempts. Phishing emails often trick recipients into revealing sensitive information or downloading malware. By being aware of common phishing tactics, employees can avoid these traps.
Security policies: Within an organization, it's vital to establish and communicate clear security policies and procedures. Employees should be well-informed about what to do in case of a security breach or incident.
Incident response: It's essential to prepare your team for potential security incidents. Having an incident response plan in place ensures that, in the event of a breach, your employees know how to respond effectively, minimizing damage and data loss.
Data Backup and Recovery
Regular backups: Make it a routine to perform regular data backups. This ensures that, even in the event of a breach, your data can be restored. It's also essential to keep backup copies in a secure, separate location.
Test backups: Periodically test your backups to ensure they can be restored without any complications. It's one thing to have backups; it's another to know that they work when you need them.
Incident recovery plan: Alongside regular backups, it's critical to have a comprehensive incident recovery plan in place. This plan outlines the steps to take if a breach occurs, with the aim of minimizing downtime and data loss.
The Ongoing Effort
It's important to understand that cybersecurity is not a one-time task but an ongoing effort. It requires consistent attention, adaptation, and a commitment to staying ahead of cyber threats. While Cybersecurity Awareness Month serves as an excellent starting point, maintaining your digital security should be a year-round endeavor.
At Digital Crisis, we understand the ever-evolving nature of cyber threats and the importance of a robust cybersecurity posture. We recognize that each individual and organization is unique, and that's why we offer tailored solutions to meet your specific needs. Whether you're looking to strengthen your defenses or respond to a security incident, we're here to help.As we celebrate Cybersecurity Awareness Month, now is the perfect time to take action and reassess your cybersecurity strategy. For expert guidance on bolstering your cybersecurity measures and ensuring the protection of your digital assets, contact us today. Our dedicated team is ready to assist you on your journey to a more secure digital environment.